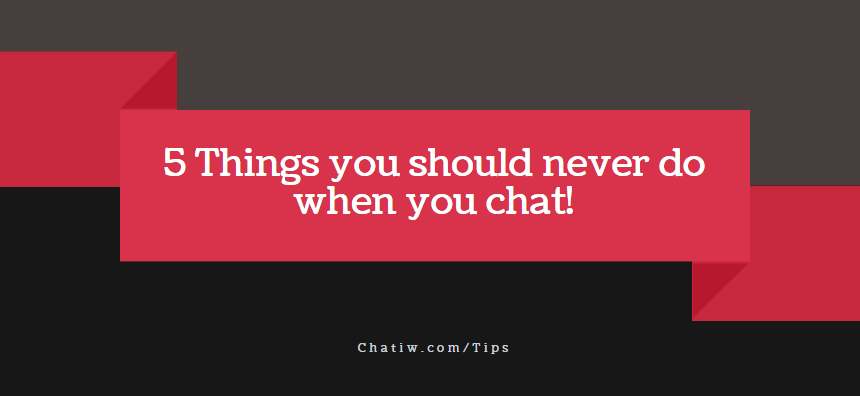 5 Things you should never do when you chat!
---
Posted on February 28, 2017
Most advices on chatting focus on what to do. In this post we will focus on five things that are the worst to do while chatting which can cause you awkward problems the next day. Let's take a look on them.

1. Do not chat when you are drunk! When you are dizzy from drinking and your self control is loose you may tell things that you wish you wouldn't or which may damage your public profile. Remember that you never know who really is in the other side.
2. Do not share illegal content with your chat-friends. Any conversation without the consent of the recorded person, photos that have been taken without permission and pornographic content are in the black list, even if you own them. The first reason is that you never know whose hands this will reach, and who will share it. Have also in the back of your mind that the Electronic Crime Service is always around.
3. Have in mind that your conversations should not last long. Long chat can lead to misunderstandings and you may feel comfortable to reveal much information that you shouldn't.
4. The copy / paste is a completely automatic movement so always make sure that your copy has got what you think you have taken if you talk to many people simultaneously. You won't like it if your chat-friend will learn things that you don't want to, because you share it with another person. And of course you may get in an awkward position to get the names of your chat mates confused!
5. Do not reveal in your chat-friend your address or if you are going to leave home for some time. Do not reveal what your daily program is and where you keep your secret and personal things. You won't like it at all if while you are waiting for your chat-friend in a bar, somebody other robs your house.
---
Keywords : chatting,chat mates,chat-friend